"Der Harry"- eine lebende Legende im europäischen Taubensport !!!
Details

Veröffentlicht am Mittwoch, 28. Februar 2018 13:18
Wer kennt ihn nicht : Der "Harry" von Jan Hoymanns zählt zur Creme de la Creme des Taubensportes. Eine der besten Tauben der Welt. Amazing-Wings präsentiert exklusiv die "Harry -Jan Hooymans-Collection". Eine Taubenauktion der Extaklasse rund um den berühmten "Harry" ist nun online.
The year 2009 brings supercrack Harry "immortal glory" … in this season
won this ultimate racer everything there was to win! He did what no pigeon
on the world did earlier yet and maybe never will imitate: winning 2 NPO
races (Against masses pigeons) and a 3rd NPO (also against large numbers
of opponents) … and that in just one season, and at the toughest discipline:
the long distance! And … ..let on: with 3 different weather types!
The entire 2009 season, "Harry" was in great shape … he won no less than
five first prizes and two second prizes in clubs!
But a year earlier in 2008, as inexperienced yearling, he showed on a heavy
middle distance race with headwind that he 'is born with it' …
1st Morlincourt against more than 500 pigeons and 19th against 20,920
pigeons! But also at a spicy long distance race from Chateauroux (over 600
km) the promising yearling "Harry" won the 21th NPO (1,198 meters per
minute!). Don't forget that Harry as a youngster just had some training
flights (not overclocked) …
Nowadays "Harry" is the boss in the breedingloft of Hooymans and not
without consequences…
Today he is already father and grandfather and great-grandfather of several
top ten placings NPO. Here is a summary of his breeding performance.
"HARRY" - The Dutch Wonderboy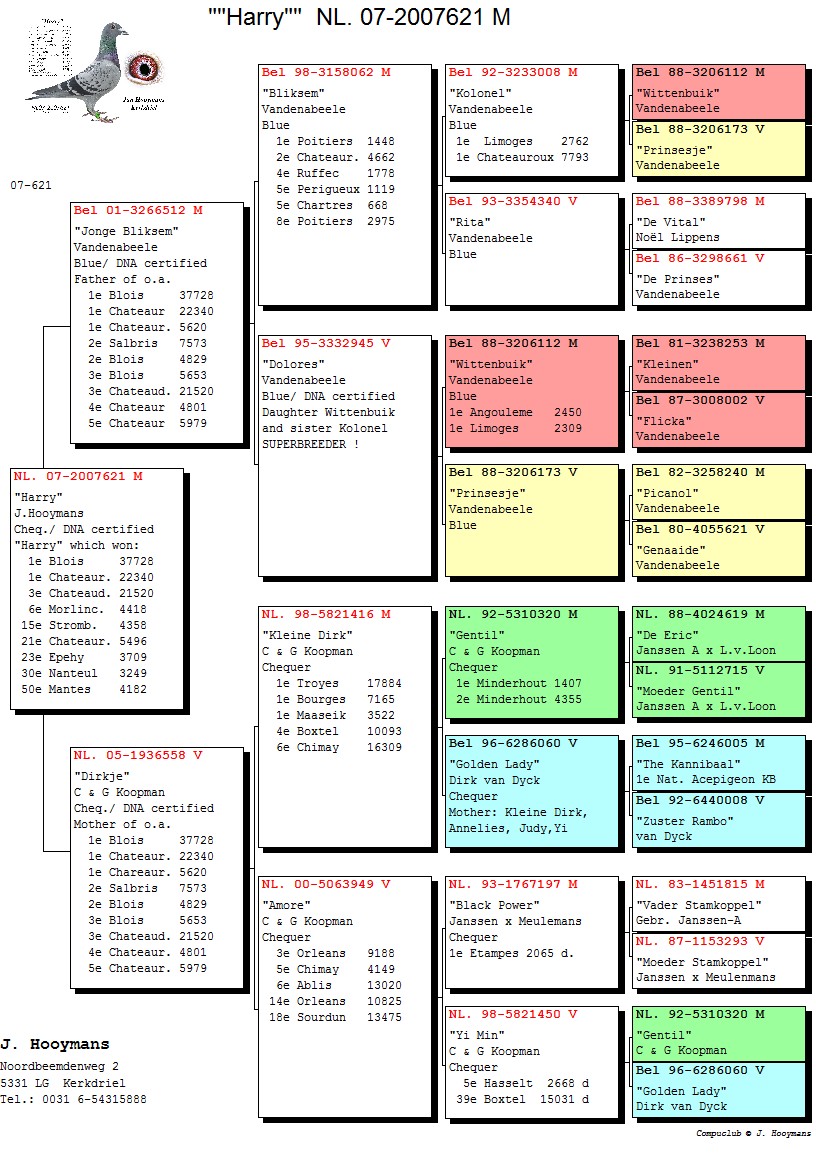 ACHTUNG:
Aktuell versteigert  Amazing-Wings exklusiv  
7 streng selektierte Jungtauben aus den besten Tauben der
"Harry"- Dynastie